BB Supreme Bath Salts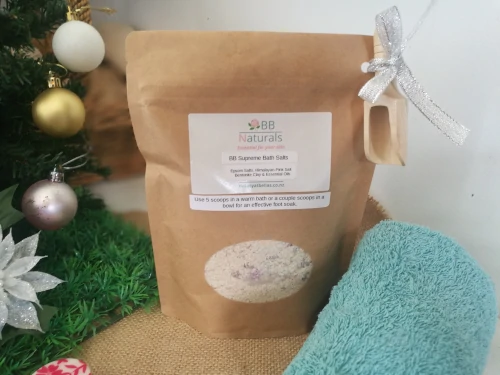 Description
With an abundance of quality minerals for detoxification, stress relief, skin replenishment and the relaxing of tight muscles, this is the perfect choice for an indulging spa experience. Also included, a cute wooden scoop.

Ingredients
Gold Label Epsom Salts are top quality, mineral rich and is free from heavy metals.

Himalayan Pink Salts are naturally rich in 84 nourishing minerals, free from environmental pollutants and additives.

Bentonite Clay is formed from volcanic ash, is also chemical free and has an abundance of minerals binding with toxins and free-radicals removing them from the body.
Essential Oils of Lavender, Lemon and Rosemary assisting in relaxation and detoxification.